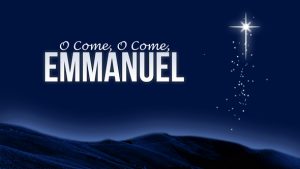 December 1st-9th: The Youth Group proudly presents once again our Giving Christmas Tree for Needy Families. It is available for donations in the Main Foyer of the Church. Please make sure you take the tags from the tree for details about gifts to be received and return gifts with tags on them, fully wrapped, either to the Parish Office or to the Church under the Christmas tree for collection. There will be no more collections after December 9th. If you have any questions or concerns, please contact, Dawn Vitalis, Youth Minister in the Parish Office.
December 2nd: K of C sponsored PAUL TODD AND PAUL TODD JR  CHRISTMAS CONCERT at 3PM  in the Parish Hall. Tickets on sale before Concert at the parish office for the Adult $20.00, Student (12 & under) $10.00.
December 3rd: First Annual Lighting Ceremony of our new Life Size Nativity Scene at 7PM. Hot chocolate, coffee and donuts will be served. All are welcome!
December 9th: Advent Annual Family Class at 11AM in the Parish Center. Pancake breakfast sponsored by the K of C. Fellowship, food and fun
December 10th-12th: Parish Advent Mission – Advent reflection on how our journey of Advent intersects with our journey through married life. Deepen your matrimonial and sacramental call to love, faith, and unity. Come see what God has in store for you and your marriage this Advent. December 10, 11, and 12 following 8:00 AM Mass. Or, all 3 talks in one evening, December 12 from 6-8 PM. Followed by Marriage Vow Renewal and "Wedding Reception".
December 13th: Advent Penance Service at 5:30PM in the Church.
December 15th-16th: Clothing Drive for Migrant Workers. Drop off clothes between 9AM and 5PM at the Gazebo on the left side of the Parish grounds.
December 16th: Anointing of the Sick Service at 2PM in the Church followed by a reception in the Parish Center.
For all other events see our parish calendar!