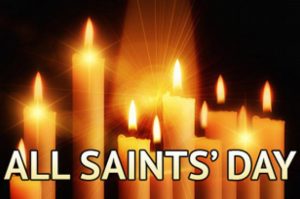 Catholic Charities Hurricane Aid Drop-off Locations.
Clothing Drive: Start saving your usable clothes now for Migrant Workers! Drive will take place December 15th & 16th sponsored by the K of C.
Tickets on sale at the parish office for the K of C sponsored PAUL TODD AND PAUL TODD JR  CHRISTMAS CONCERT Sunday, December 2, 2018  in the Parish Hall. Adult $20.00, Student (12 & under) $10.00.
November 1st: All Saints Day (Holy Day of Obligation)
November 2nd: All Souls Day
November 1st-4th: Twice a year Our Lady of Lourdes Prison Ministry in conjunction with Kairos Prison Ministry go behind prison walls for four retreat days. We will be locked in with the inmates in a Cursillo-like retreat that includes a series of talks, discussion, chapel meditations and creating Christian Community. You too can reach behind prison walls with us through your prayers and donations. Whatever you can give is OK with us for every dollar counts and every prayer helps. You can give your donations to John Dinka, 303-5706, Don Burnham, 4683400 or Gary Guyon, 460-1946 if you see them around church grounds. If not, leave it at the front desk in the office or mail it to the parish marked Prison Ministry.
November 3rd: Circle of Life Charity Golf Tournament, K of C Charities (Pregnancy Solutions, Solve Maternity Homes and Our Mother's House) will take place at Pelican Pointe Shotgun start at 8AM. See Video!
November 4th: Blood Drive in church main parking lot 8AM – 1:30PM.
November 6th: Last Session of "The Bible and the Virgin Mary" Bible Study in the Education Building at 6PM.
November 7th: "PINK & BLUE, WE WELCOME YOU" BABY SHOWER. All ladies of the parish are invited to bring an unwrapped baby gift and a dish to share for the potluck salad luncheon.
November 7th: Last session of 6-week Grief Seminar: to help understand the grief journey and to help integrate grief into our lives. Education Building at 10AM. No cost.
November 8th: CCW BOOK CLUB Meeting at 10:00AM in the Education Building. Book: "Before We Were Yours," by Lisa Wingate. Cally Kathy Quinnan 445-8137.
November 11th: Continental Breakfast in Parish Center.
November 16th: Catholic singles from both Our Lady of Lourdes and Epiphany are welcome to join us for dinner, music, and dancing at the American Legion, 1770 East Venice Avenue at 5:30 pm. Call Marie at 941-493- 8579 or email her at lietrim29@gmail.com.
November 17th: Diocesan Catechist Retreat in the Parish Center and Chapel from 9AM – 2PM.
November 18th: Pancake Breakfast after 8AM and 10AM Masses.
November 24th/25th: Food Collection at front & rear entrances of the church.
November 24th-December 9th: The Youth Group proudly presents once again our Giving Christmas Tree for Needy Families. It will be available for donations in the Main Foyer of the Church.
November 25th: Sugar Bowl Show of Shows: Former members of the Beach Boys feature California Surf, Incorporated – Venice Performing Arts Center at 2PM. Proceeds benefit Catholic Charities. Get tickets here.
November 28th: The Mad Hatter Annual Hostess Tea Party – 2:00 to 4:00 PM in the parish center.
PRIZE for Most Original Hat!!!! To host a table of 8, please contact Kathy Yaglenski at 941-408-7558 or Jeannine Martin at 941-493-2778
November 29th/30th: 5th Sunday Rosary led by the K of C before all Masses.
November 30th: Scripture Series – Bible Study Training Day in Parish Center from 10AM – 2PM.