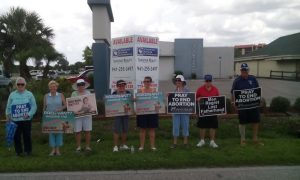 September 23rd: Coffee & Donuts after 8 &10AM  Masses. ALL WELCOME.
September 28th: Single Catholics…join us for dinner, music, and dancing at the American Legion, 1770 East Venice Ave., THIS Friday at 5:30 pm. Call Marie at 941-493- 8579 or email her at lietrim29@gmail.com
September 28th-29th: Statewide Florida Respect Life Conference in Punta Gorda
September 29th/30th: Food Collection – Front & Rear Entrances.  Family Rosary before all Masses. Also, holy items from the Holy Land available for sale at all Masses to support Bethlehem Christian Families. Also, see Land of Peace.