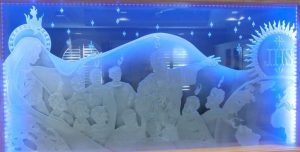 It is different every week….the shelves change in the Room with new and different materials….all intended to reach those who seek it.  That is the key:  if you are seeking something; come into the Upper Room and ask for it.  The answer may be something physical to take with you, a phone number for someone to call, a website to look at or an affirmation to keep looking.
The Upper Room is a safe place for you (a reader of this article) just as it was for Jesus' first disciples.  In fact, there is a book about that original Upper Room located there.  Let the Holy Spirit guide you past the entry way to a very curious place.  There are people with whom to talk or guide you to something else.
Also, there is a "virtual" Upper Room on our parish web site and then click on "Upper Room" on the header…content changes weekly including the "Pick of the week" provided by our media partner FORMED who are basically a Catholic "Netflix".
Best of all:  nothing costs you more than your time…and not much of that…..check out the Upper Room either in the entrance to the Church or on the Parish website or in the curiosity of your heart….then pursue what you find there….