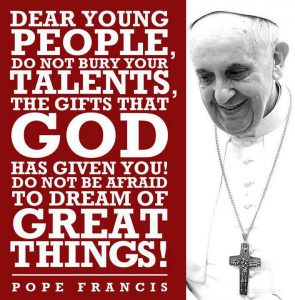 Director of Youth Ministry: Cierra Evancho
Phone: (941) 544-8752
Email: Cierra.Evancho@ollvenice.org
Facebook: http://www.facebook.com/olol.youthgroup
Our Purpose:
To introduce teenagers and young adults to an exciting and life-transforming relationship with Jesus Christ, as we enjoy friendships, grow in our faith and prepare ourselves to go out into the world as Jesus' disciples. Here, teenagers and young adults from our area can connect with others who share the same morals and values. Fill out the form below for more information.
---
Youth Group
Who: Anyone in 6-12 grades looking to deepen their relationship with God & strengthen their faith.
What: We meet weekly for 2 hours to hang out, play pool, ping pong or organized games.  Each week we'll discuss an aspect of our faith and how to apply it in our daily lives.  Throughout the year we take trips, attend conferences/camps & have fundraisers too.  See our calendar for details.
When: Youth Group meets from 6:00pm to 8:00pm every Wednesday.
Where: Our Lady of Lourdes Youth Center (building on far left) 1301 Center Rd Venice FL
---